Special Talk # 4 (of 1st semester-2016)
organized by
The Southeast Asian Studies Program, Chulalongkorn University
Topic: "The U.S. Election and Southeast Asia"
Speaker: Mr. Robert Fitts, Former U.S. Ambassador
Date: Monday 3 October 2016, 10am - 12pm
Venue : Room 802, 8th Floor, Chaloem Rajakumari 60 Years Bldg. (Chamchuri 10)
The Special Talk # 3 (of 1st semester-2016)
organized by
The Southeast Asian Studies Program, Chulalongkorn University
Topic: "Integration in Premodern Southeast Asia : The Kingdom of Champa in Regional Context"
Speaker: Professor Andrew Hardy
Date: Monday 12 September 2016 from 9 am - 12 pm.
Venue : Room 702, 7th Floor, Chaloem Rajakumari 60 Years Bldg. (Chamchuri 10)
Special Talk # 2 (of 1st semester-2016)
organized by
The Southeast Asian Studies Program, Chulalongkorn University
Topic: "Fissured Histories, Shared Myths : Southeast Asian Cultures in Perspective"
Speaker: Mr. Eddin Khoo
Date: Wednesday 31 August 2016, 9.30 -12.00 am
Venue : Room 702, 7th Floor, Chaloem Rajakumari 60 Years Bldg. (Chamchuri 10)
Special Talk # 1 (of 1st semester-2016)
organized by
The Southeast Asian Studies Program, Chulalongkorn University
Topic: "China : One Belt One Road Policy"
Speaker: Mrs. Suphatra Srimaitreephithak
Date: Monday 22 August 2016
Venue : Room 702, 7th Floor, Chaloem Rajakumari 60 Years Bldg. (Chamchuri 10) Chulalongkorn University.
Special Lecture on Revisionist Histories of the Angkor Realm
Speaker: Professor Kenneth R. Hall, Professor of Ball State University, USA and Fulbright Senior Scholar, Royal University of Phnom Penh
Arranged on Tuesday March 13, 2012 at 10.00-12.00 hrs. at the Meeting Room, 3rd Floor, Prajadhipok Rambhaibarni Building, Chulalongkorn University.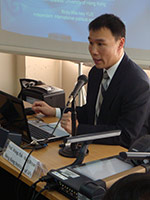 Special Lecture on U.S. Containment and Chinese Counter-containment in Southeast Asia: A Reflection of the Trends
Speaker: Professor Wong, Pak- Nung Bryan, Hong Kong Institute of Asia- Pacific Studies, Chinese University of Hong Kong
Arranged on Thursday December 22, 2011 at 13.00-16.00 hrs., at the Meeting Room, 3rd Floor, Prajadhipok Rambhaibarni Building, Chulalongkorn University